Yassin Aref is a Kurd from Iraq. He was a resident of Albany, New York. He was unfairly accused of supporting terrorists and sent to a special prison in Terre Haute, Indiana. The purpose of this site is to tell you who Yassin Aref really is and his interesting story; his struggle as a Kurd in Iraq, how he survived the Anfal genocide, his struggle for freedom, his journey to America with his family; and above all, how he ended up in prison. To learn of his story and about the Kurdish struggle for rights and liberty, Yassin wrote for you his life's story, Son of Mountains.
Click on this link to add this site to your RSS Feed.
---
---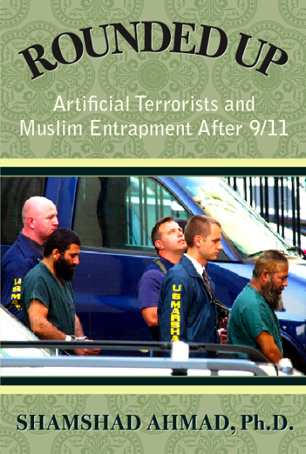 A new book about the Aref-Hossain "sting" case in Albany, New York has just been published.
Rounded Up: Artificial Terrorists and Muslim Entrapment After 9/11, by Dr. Shamshad Ahmad, president of the Masjid As-Salam mosque in Albany and the 2007 recipient of the Jim Perry Progressive Leadership Award from Citizen Action of the Capital District, is now available nationwide. Rounded Up is the only comprehensive account of the Albany case available, and there is only one other book on the market about a domestic terrorism case itself. Rounded Up is an important contribution to the new body of literature about the government's preemptive prosecution of Muslims in America. To order and to read more about the book, click here.
---
to Kak N

Which tears
are bloody and bitter
like those shaded in separation?

Continue reading See You Soon, 04/12/2016
---
They asked me
what's going on in my country
I said
blood!

They asked me
about the highest paying job
in the Middle East
I told them
shedding blood!

Continue reading Blood, 04/12/2016
---
for Sean

Even though life is fortune
yet it is full of misfortune
that is why we've ended up here,
behind these prison walls

Continue reading Flying to Rumi's World: Soul's Journey, 01/17/2016
---
I believe in the power of silence
because I saw Charlie Chaplin,
without uttering a word
and in a very comedic way,
send his message to the world.

I believe in peaceful revolution
because of Dr. King's dream.
Without carrying a gun
he climbed to the top of the mountain
and brought justice to his nation.

Continue reading Shake the World, 07/06/2015
---
http://www.timesunion.com/opinion/article/Recognize-Kurdistan-as-a-nation-5810380.php


Continue reading Recognize Kurdistan as a Nation, 10/08/2014
---
September 21, 2014


Continue reading Peace Is the Way, a response to a supporter about war , 09/22/2014
---
When there's no freedom
be careful of noise-makers!
Close your eyes,
connect your soul,
explain your feelings
with a whisper.

I am not a mystic
and this is not a mystery
I do not send a signal
I never used a cipher

Continue reading Wireless Communication, 07/27/2014
---
You are born free.
Don't live like a slave
and don't die like cattle.

Yes, you are free
say whatever you want
but don't utter the truth
and don't criticize authority

Continue reading Freedom, 07/27/2014
---
If you want to know yourself
don't look in a mirror
that's only your picture
instead
look back at your life
and see
what is your legacy.

If you want to know the time
don't look at a clock
that's only a number
instead
look forward
to see how far you are
from reaching your dreams.

Continue reading Know Yourself, 02/05/2014
---
dedicated to Nelson Mandela

Madiba
son of Africa
who rose high
and became
the Sun of the entire world.

Continue reading Long Walk to Freedom, 01/04/2014
---
dedicated to Carl Strock


Dear Carl,
What you did
every journalist should do
you asked
a "forbidden question"
you examined
your "given information"
you doubted
the authority's narration
you spoke
for an accused person.
Be proud and stand tall,
this is victory, not a "fall"

Continue reading Honesty, 10/30/2013
---
When I went to the computer room to check my e-mail, I was carrying an old newspaper with me. There I found an e-mail from my friend, Lynne, asking me to write something for you so she could read it on my behalf. I came back to my cell thinking about what I should write. When I opened my newspaper, I saw a comic picture of President Bush with two big ears and Mr. Cheney with a scowling face––which captured my attention. The caption read, "Cheney got the heart transplant, but Bush is still on the waiting list for a brain." Maybe this sounds funny to you, but it was deep and really sad to me, because this brainless and heartless man misled this nation and ruined this country for eight years.


Continue reading One Percent, 09/20/2013
---
Like a grain of a spike of wheat
when they splashed me
I waited for rain
then I grew again
and made a pile of seeds.

Like the seed of a narcissus
when they cut my stature
I waited for spring
then I came out again
and turned our land into a garden.

Continue reading Coming Back, 07/15/2013
---
The first time I met pain
it was in the womb of my mother
since then we are like twins
who have come to life together.

It's a mystery
why pain enjoys my company
despite what may I say or do
pain has patience and will not leave me!

Continue reading Pain and Me, 05/19/2013
---
Look at me
I am not surprised at all
I know why
you are avoiding me,
not writing any letters,
not even answering my calls––
because you don't want me
to stop writing poetry!
you don't ever like to see
your love's fire in my chest
cool off, ending my energy.

I know why you are silent––
because there is no way,
there are no words
to explain
your feeling and
your heart's pain.

Continue reading Look at Me, 05/13/2013
---
As they say,
when someone dies
you must open a window
to allow his soul to get out
and fly back to the sky

I'm wondering:
if I die in this prison cell
where there is no window,
what will happen to my soul,
how it will fly,
where it will go?

Continue reading Soul, 03/01/2013
---
Where am I from?

To a vagabond and
stateless person like me
nothing is as hurtful,
nothing is as hard
as the question
"Where are you from?"

Continue reading Where Am I From?, 01/27/2013
---
I read in the history
what Hulagu* did in Baghdad
I saw the pictures of Belgrade
I know of Hiroshima, Nagasaki
I am aware of Rwanda
I remember Sarajevo
In my beloved country
I saw Anfal and Halabja
I experienced tyranny

But what I see in Syria
is the real hysteria
Here the brutal ruler
(president of the republic!)
who claims to be a reformer
is moving his entire army
from one city to another
to slaughter women and children
genociding his own citizens
blood flooding the floor
smoke covering the sky
the world closing its eye
leaving more innocents to die
women and children crying
where is the superpower?
where is the United Nations?

Continue reading He Is His Father's Son, 11/14/2012
---
I am like an old tree
every day
some of my leaves fall
every year
more of my branches dry
all of what remains
is my trunk
inclined, unsound
today or tomorrow
when another wind blows
it will be uprooted
from the ground.


Translation into Kurdish by Yassin:

Continue reading My Life's Tree (with Kurdish translation), 11/13/2012
---
"The food is ready," she said.


Continue reading Random Selection, 07/17/2012
---
Welcome Democracy Now! Listeners
Read about Dr. Rafil Dhafir, the Muslim Solidarity
Committee and more information about the CMU-
"Little Guantanamo" on the Links page here
Read more about the CMU Prisons
"Little Guantanamo"–Secretive 'CMU' Prisons Designed to Restrict Communication of
Jailed Muslims and Activists With Outside World
Broadcast on Democracy Now! April 17, 2009
---
Photos sent by Arif Gull, a friend of Yassin's of
Hashazini and Kurdistan.
---
Me
by Yassin Aref

This is me
Wherever I am
I carry a pen in my pocket
and book in my hand
Tons of new ideas are in my mind
My heart full of love and caring
Looking forward hopefully
For justice, peace and a better life
For us all and the coming generation.
Searching for an answer to the question
"What exactly does it mean
that we are human beings?"
---
Quote from Pastor Martin Niemöller

In Germany they first came for the Communists, but I didn't speak up because I wasn't a Communist. Then the came for the Jews, and I didn't speak up because I wasn't a Jew. Then they came for the trade unionists, and I didn't speak up because I wasn't a trade unionist. Then they came for the Catholics, and I didn't speak up because I was a Protestant. Then they came for me, and by that time no one was left to speak up.

from Bartlett's Familiar Quotations