Yassin Aref is a Kurd from Iraq. He was a resident of Albany, New York. He was unfairly accused of supporting terrorists and sent to a special prison in Terre Haute, Indiana. The purpose of this site is to tell you who Yassin Aref really is and his interesting story; his struggle as a Kurd in Iraq, how he survived the Anfal genocide, his struggle for freedom, his journey to America with his family; and above all, how he ended up in prison. To learn of his story and about the Kurdish struggle for rights and liberty, Yassin wrote for you his life's story, Son of Mountains.
Click on this link to add this site to your RSS Feed.
---
---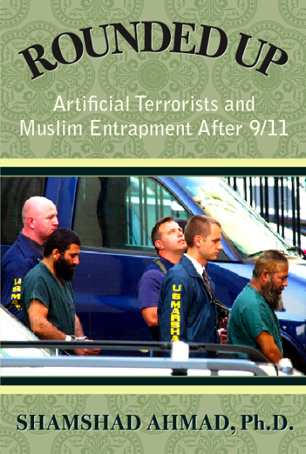 A new book about the Aref-Hossain "sting" case in Albany, New York has just been published.
Rounded Up: Artificial Terrorists and Muslim Entrapment After 9/11, by Dr. Shamshad Ahmad, president of the Masjid As-Salam mosque in Albany and the 2007 recipient of the Jim Perry Progressive Leadership Award from Citizen Action of the Capital District, is now available nationwide. Rounded Up is the only comprehensive account of the Albany case available, and there is only one other book on the market about a domestic terrorism case itself. Rounded Up is an important contribution to the new body of literature about the government's preemptive prosecution of Muslims in America. To order and to read more about the book, click here.
---
Continue reading Fifteen Years, 04/28/2019
---
Continue reading The Truth, 02/04/2019
---
Continue reading Sons of Mountains, 01/23/2019
---
The cure for being homesick is
to have your home in your chest
Be a stranger in this world
Start your day singing like the birds
Wherever you go, build a small nest


dardy doori
bo dardi doori nishtman
dlt awadan karawa
wak gharib bji LA dunia
malt bgra ba kolawa
wak balnda
roj ba gorany dast pe ka
LA had kwe hay, bo kwe aroi
lanaya bchook droost ka

Continue reading Homesick, 12/25/2018
---
Continue reading I Am Going!, 12/16/2018
---
I go back
empty handed,
with a broken heart
which is on fire,
full of love and dreams

I go back
looking for reunion
with my dear and near people
hoping to end
twenty years of exile's pain

Continue reading I Am Going Back, 11/25/2018
---
Putting gold in a fire
will only make it glitter better
the darkness of night
makes the moon even brighter

Enough crying
stop complaining
all the Messengers
had their share of pain

Continue reading Decency , 08/16/2018
---
For years
your words
have echoed in my mind
hurt my soul
slowly slowly
melted my heart

For decades
I have been looking
for an opportunity
to let you know
how much I am sorry

Continue reading Where Are You?, 08/12/2018
---
When I left
my heart refused
to come with me
and stayed with you

If this loneliness
does not drive me insane
if this exile
does not kill me
if this time
I make it back
if we ever reunite
like "Nali" I promise
I will never ever again
go anywhere without you

Continue reading All I Need in This Life, 07/31/2018
---
Continue reading Bond, 06/04/2018
---
Continue reading Prayer, 08/03/2017
---
Since a worried Plato
announced to the world
that his teacher was facing execution,
it turned into a kind of law:
free thinkers
must always sacrifice
and need to be ready to go.

History is very clear:
the true scientists
the real philosophers
do not know fear.
There are countless examples
when they were thrown into jail
or hanged in the public square.

Continue reading Ideology, 09/20/2016
---
Abul Qasm al Shabi
once said:
"Oh my heart,
you are the source
of all my pains."
But mine
are all coming
from my head!

Napoleon
declared to the world
he was not afraid
of a hundred people
carrying guns
but he was scared
of one person
armed with a pen.

Continue reading Opposite, 09/20/2016
---
Like Qanie*
prison to me
is a school.
I am content
living free
behind these walls.

Like Mandela** and Apo***
after decades
of life and self-reflection,
after decades
of thinking and meditating,
after decades
of reading and studying theories,

Continue reading Coexistence, 09/20/2016
---
It has been said
that roses are red
because they are
the martyr's blood

Everywhere in my country
I see my peshmerga's friends,
our fallen soldiers,
in the eyes of flowers.

Continue reading Flower, 09/20/2016
---
In this lonely land of prison,
in the darkness of my cell,
in complete and total isolation,
I started thinking and thinking

I dug deeper and deeper
I went farther and farther
until I reached the Real World
full of justice
full of peace
full of joy

Continue reading The Real World, 09/20/2016
---
Continue reading Steady, 09/20/2016
---
to Kak N

Which tears
are bloody and bitter
like those shaded in separation?

Continue reading See You Soon, 04/12/2016
---
They asked me
what's going on in my country
I said
blood!

They asked me
about the highest paying job
in the Middle East
I told them
shedding blood!

Continue reading Blood, 04/12/2016
---
for Sean

Even though life is fortune
yet it is full of misfortune
that is why we've ended up here,
behind these prison walls

Continue reading Flying to Rumi's World: Soul's Journey, 01/17/2016
---
Welcome Democracy Now! Listeners
Read about Dr. Rafil Dhafir, the Muslim Solidarity
Committee and more information about the CMU-
"Little Guantanamo" on the Links page here
Read more about the CMU Prisons
"Little Guantanamo"–Secretive 'CMU' Prisons Designed to Restrict Communication of
Jailed Muslims and Activists With Outside World
Broadcast on Democracy Now! April 17, 2009
---
Photos sent by Arif Gull, a friend of Yassin's of
Hashazini and Kurdistan.
---
Me
by Yassin Aref

This is me
Wherever I am
I carry a pen in my pocket
and book in my hand
Tons of new ideas are in my mind
My heart full of love and caring
Looking forward hopefully
For justice, peace and a better life
For us all and the coming generation.
Searching for an answer to the question
"What exactly does it mean
that we are human beings?"
---
Quote from Pastor Martin Niemöller

In Germany they first came for the Communists, but I didn't speak up because I wasn't a Communist. Then the came for the Jews, and I didn't speak up because I wasn't a Jew. Then they came for the trade unionists, and I didn't speak up because I wasn't a trade unionist. Then they came for the Catholics, and I didn't speak up because I was a Protestant. Then they came for me, and by that time no one was left to speak up.

from Bartlett's Familiar Quotations